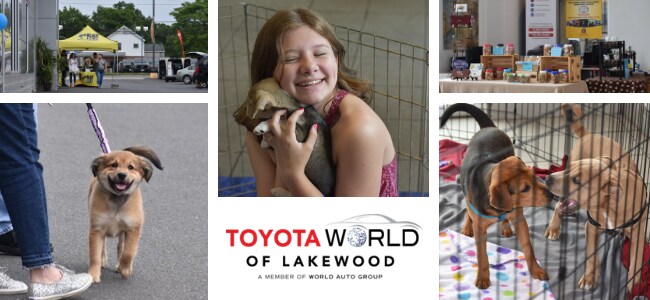 At Toyota World of Lakewood, not only do we take great pride in helping our customers bring home their dream cars, but we also care deeply about helping our furry friends find their forever homes. On Sunday, October 21st, our Toyota dealership will be hosting our bi-annual Pet Adoption Day from 12 p.m. to 3 p.m., right at our convenient location in Lakewood.
Come to Toyota World of Lakewood and Bring Home Your New Best Friend
By hosting this special event twice a year in June and October, we believe we are truly making a difference in the lives of our community members and animals in need. There's nothing more rewarding than seeing the smile on your face as you find your new pet!
Without the help of various local animal rescues, this event would not be possible! 
We'd like to thank our contributing organizations, including:
Puppy Love Pet Rescue in Toms River
Pick Your Paw Animal Rescue in Red Bank
Pitties and Pals in Jackson
Jersey Shore Animal Center in Brick
You'll also be able to purchase goodies for your new best friend from multiple pet vendors, including:
CBD Pet Oils by individual consultant Jo-Ann Quick
Crowns for Critters
Pet Pawtraits by Stephanie
Woof-em Down Dog Treats
Get your family and friends together, and join in on the fun while supporting a great cause. The Wrat 95.9 will be providing music and raffles, so you can listen to your favorite tunes while winning awesome prizes. Our Toyota dealer will also be giving away gift cards to lucky winners. We will be providing a fun fall-themed photo booth, so make sure you stop by and take a family photo with your new pet. Since Halloween is right around the corner, we will also be hosting a dog costume contest. That is one adorable sight that you cannot miss out on!
Our last Pet Adoption Day resulted in about 60 adoption applications, and we are grateful to help even more animals find a loving home. For more information about this amazing event, don't hesitate to contact our Toyota dealer at 732-364-9000.
If you're located in the Lakewood, Toms River, and Brick areas, we hope to see you there!