No matter your destination, when Lakewood and Brick area drivers get behind the wheel of a new Toyota model, they can expect enhanced control and performance. Whether your Toyota vehicle is fitted with an all-wheel drive (AWD) or a four-wheel drive (FWD) system, you'll have incredible traction and maximum stability to handle any road condition.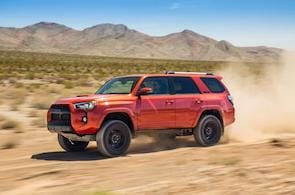 If your Toyota model is equipped with AWD or FWD, it will be paired with one of these drivetrains:
All-Wheel Drive (AWD) System with Dynamic Torque Control
Four-Wheel Drive (4WD) System with Active Traction Control
Uncertain which one is right for you? Read on to check out all the advantages of each drivetrain option.
Which Toyota Models Offer AWD With Dynamic Torque Control?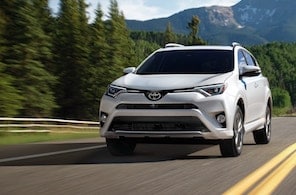 Normally found in Toyota crossovers and smaller SUVs, all-wheel drive is ideal for drivers who need more traction and enhanced handling on the roads, but don't need the towing strength that FWD provides. Many Toyota models equipped with AWD also come with capable features like Vehicle Stability Control and Dynamic Torque Control. Toyota has a great lineup of vehicles with AWD that will fit your lifestyle including:
Toyota RAV4
Toyota RAV4 Hybrid
Toyota Highlander
Toyota Highlander Hybrid
Toyota Sienna
Which Toyota Models Offer FWD With Active Traction Control?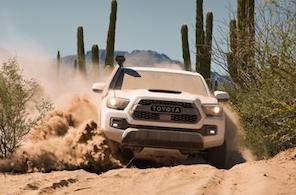 Built to take on any terrain, Toyota has a fleet of trucks and SUVs that feature either standard or available part-time or full-time FWD capabilities with Active Traction Control. Drivers can also enjoy advanced equipment and technologies like a Kinetic Dynamic Suspension System (KDSS), Crawl Control, and Multi-Terrain Select when they get behind the wheel of a Toyota with FWD. You can experience all of these features and more in these Toyota models available at our Lakewood Toyota dealer serving the Brick area:
Toyota Tacoma
Toyota Tundra
Toyota 4Runner
Toyota Sequoia
Toyota Land Cruiser
How Does Toyota AWD and FWD Work?
As the name might imply, all-wheel drive works by providing power to all the wheels of a vehicle on stable road conditions, but will divert power to certain wheels if the system senses a loss of traction. Toyota's AWD system monitors factors like vehicle speed, steering speed and angle, throttle angle, and yaw rate, and has a coupler built in the rear differential that can push torque dynamically between the wheels, allowing it to change the direction of power in a split-second.
Four-wheel drive is similar but is typically more robust and built for maximum power and traction. While not automatic, FWD is able to be switched on to evenly distribute power to all four wheels when necessary, but drivers must watch their speed as this drivetrain is harder on their vehicle's tires and fuel economy.
Tackle Any Adventure in Lakewood in a Toyota Model with AWD or FWD
While both systems provide drivers with plenty of stability and control on the road, the drivetrain you choose ultimately depends upon your driving needs. Feel free to contact Toyota World of Lakewood online or give us a call at (732) 364-9000 for more information about either of these Toyota powertrains.
Toyota AWD Inventory
Toyota FWD Inventory